Support us in so many ways!
Every time you shop online and use Amazon or Escrip Mall links on this page instead of going directly, the advertiser will donate a small portion of your purchase to the school. This does not cost you more and you can still use all your regular promotions and coupons.
Don't forget to select Tufenkian Preschool for your Target Redcard's Take Charge of Education program.
Also register your credit cards at escrip.com so your purchases earn the school automatically.
Make sure the school gets credit for your Office Depot purchases too.
If you like daily deals signup with spreebird for a daily email.
Escrip School ID:

137115869

Office Depot School ID:

70201036

Ralphs School ID:

82138

Target School ID:

152524

VONS Escrip ID:

137115869
1. Amazon.com
Please shop at amazon through the link below. There is no cost to you and the school will get a few percentage of your sale. Please note that to protect your privacy we do not have access to who ordered what items, credit card numbers or any other personal data.
https://www.amazon.com/?tag=tufenkian-20
2. Escrip Mall
Shop at over 1,000 of your favorite online merchants including, Macy's, Apple Store, Disney, 1-800-FLOWERS and many more. You may also install the AutoEarn Toolbar for automatic contribution every time you shop at a participating merchant.
escrip.com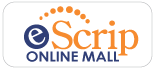 3. Escrip VONS
Shop at Vons or Pavilions to earn money for our group. If you participated last year: Go to eScrip.com; Click on "YES RENEW!"; Enter either your phone number, email, or Club Card number To sign up for the first time: Go to eScrip.com; Click on "1-Sign Up"; Enter your Club Card number; Our Group ID 137115869
4. Ralphs Community Contribution
Enroll or Re-Enroll in the Ralphs Club Card Community Partnership Program and Ralphs will donate a small portion of your total sales back to the school. Go to www.ralphs.com
Click on Community Contribution
Click on Participant
Fill in the "Bolded" information. Tufenkian's ID # is 82138. Fill in your club card number which can be found on your card - it's usually 13 digits beginning with a number "2". Click on Submit
That's how easy it is to enroll and continue to help us earn money!!
www.ralphs.com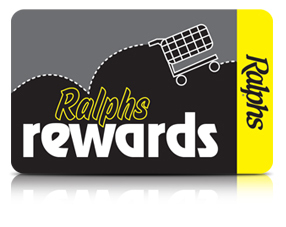 5. Office Depot 5%
Give Tufenkian Preschool's ID# 70201036 every time you shop at Office Depot. Our school will earn credits equal to 5% of your qualifying school or office supply purchases to use for FREE supplies. You can credit the school year round!
officedepot.com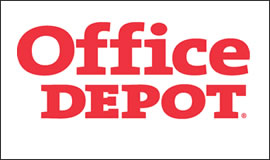 6. Target Redcard
We know of a terrific way to save 5% at target and raise funds for Tufenkian PreSchool. It's easy, and all you have to do is use your Target Visa or Target Card. We will receive a percentage of the amount of each purchase in the form of a cash donation from Target through the Take Charge of Education program. It's easy. Just visit www.target.com/tcoe, or call 1-800-316-6142 to designate Tufenkian.
The school ID for Tufenkian is: 152524.
So, if you're going to Target anyway, please consider using your Target Visa or Target Card. Big thanks to those who are already doing their part to make a great school even better. Grandparents, alumni, neighbors and friends can take part, too!
Don't have a Target card that designates Tufenkian? Just visit:
www.target.com/tcoe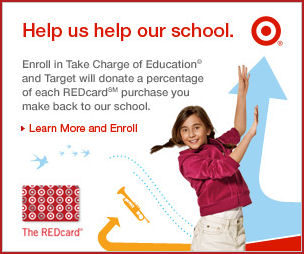 7. Spreebird Deals
Spreebird Deals donates 10% of their profits on every deal we buy. Spreebird Deals offers 50-90% off on all the best restaurants, products, spas, car washes, golf, movie tickets and frozen yogurt! Please sign up for FREE, at www.spreebird.com and select Tufenkian Preschool as your community partner. We will receive 10% of their profits from any deal you choose! PLUS, when you (or any friend you refer) sign up, we receive $1.00 in addition to the year-round contributions. It's absolutely free, and the deals are amazing. It truly is a win-win!
www.spreebird.com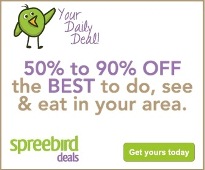 8. Maxback buyback
Sell your gently used cell phones, tablets, iPods or video games to MaxBack and they make a donation to our school! It's a win-win. They give 10% of the value of your exchange, and you get 100% back when you sell your cell phone, iPod, tablet or video game! It's that simple. Please use the link below that is coded with our school ID# 48329.
www.maxback.com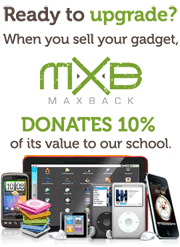 9. Funding Factory Recycling
Help us Recycle and Earn! We participate in a fundraising-thru-recycling program. Simply drop off your empty inkjet and toner cartridges, used cell phones, mp3 players & digital cameras at the specially marked box by the school office. Please do not occupy the school administration's time about this program, instead contact the coordinator, see below.
Thank you!
If your business would like to recycle directly, fundingfactory provides free boxes and shipping labels. Please see the link below for details, our school ID# 48329.
www.fundingfactory.com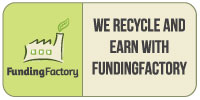 Questions or comments?
If you have any questions, comments or need help signing up with any of the programs please contact the coordinator at: aff@tufenkianpreschool.com
THANK YOU FOR YOUR SUPPORT!